Xintai Sanyou Textile Co., Ltd. is a Sino-foreign joint venture enterprise incorporated in Tai'an City Administration for Industry and approved by the People's Government of Shandong Province,. The registered capital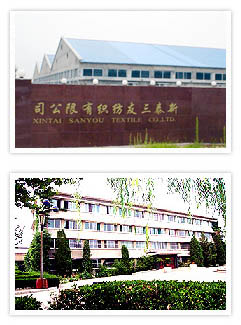 of 215 million U.S. dollars, the company is located in the Beijing-Shanghai Expressway fruit at the exit, and covers an area of ​​50,000 square meters, is mainly engaged in the production and sales of spinning, weaving, garment making, bedding, and has the right to import and export, Company production of cotton yarn, gray cloth, clothing and bedding are exported to countries around the world, recognized by national businesses. The company currently employs more than 800 people. 50 high intermediate technical titles, with fixed assets of 70 million yuan, 80,000 spindles, producing 10,000 tons of cotton yarn, 340 rapier looms over 150 units, 100 units imported Toyota air-jet looms imported high-speed large rapier 200 units, with an annual output of cloth 28 million meters, clothing 200,000 companies registered trademark of the waves Qin ".
In good faith and development, quality of survival of the principle of continuous innovation, the introduction of advanced production technology, production equipment, in order to adapt to the needs of the market. The company bought the metal winder electronic yarn clearer, carding equipment, in the same industry leading level from Hunan Xiang spinning, Xiamen University, and has hired a number of professionals understand technology will manage, all the factory workers carried out a comprehensive system of training, each professional quality of employees, the technical level has been significantly improved. Currently, the company T/C50/50 40S, T/C65/35 45S cotton yarn, selling more than 10 domestic regions, and exported to Europe, America, Southeast Asia, the Philippines, Australia and other countries, favored by customers.
To further open up the market, the company is bigger and stronger, and enhance the ability to resist risks, the company decided to invest 38 million yuan, and the expansion of the second phase of the project, 20,000 pre-New combed spinning equipment; Taiwan circular knitting machine 50 ; have been added and formally put into operation more than 100 units of the 340 rapier looms, the annual output of more than one million meters; one of slurry yarn. All the equipment in the normal production. Then, the new value of 50 million yuan, 4.2 million yuan of profits and taxes the placement 380 employees, has a significant economic and social benefits.
All the staff of the company warmly welcome the leadership to guide our work. I believe that the superior departments under the leadership of three friends will be full of enthusiasm, solidarity and tenaciously greater victory.